What The Documentary Killer Inside: The Mind Of Aaron Hernandez Got Wrong
Netflix's Killer Inside gets 8 out of 10 Herzogs
By Paco Romane 1-22-20
I just watched Killer Inside: The Mind of Aaron Hernandez on Netflix. This documentary is a very in depth investigative look into the life and death of professional football player Aaron Hernandez.
I liked this documentary series a lot but where I think it went wrong was that it was looking at the wrong reasons WHY Aaron was a killer. We live in a society that is fascinated with "but this guy had everything – a big house, millions of dollars and a beautiful wife – why would he throw all of that away?" Because this is all material bullshit that's why. This dude was empty inside. He was convicted of killing a good friend of his – his sister-in-laws boyfriend! And more than likely he killed 2 more for spilling a drink on his shoes!
He might have advanced stages of CTE. He might have been a closeted gay man. There are football players that are both and don't kill people. There are people growing up in worse situations that don't murder.
What I wish this doc had taken a closer look at was the mental health aspect. It doesn't matter if you have "everything" because "everything" doesn't exist. Perfection doesn't exist.
The film makers did an excellent job of editing, sound design, interviews, facts, courtroom video and even the sad and insightful prison phone calls from his wife, mom, daughter, friends and agents.
If you're a true crime buff, sports fan, or hate The Patriots as much as I do I recommend this documentary. If you find yourself asking "why would he do this?" ask additionally "why doesn't it happen more often?"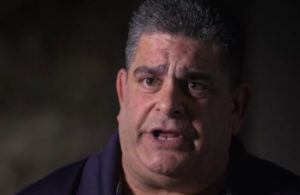 I would also say the father of Aaron's gay high school love is my favorite person in this doc! He was like a Mobster that had a turn of heart because he loves his son so much.
I give Killer Inside: The Mind of Aaron Hernandez 8 out of 10 Herzogs.
(Editor: Our rating system is based on Herzogs – 10 out of 10 Herzogs is the best)