Sup Doc Merch!
You know you want a FREE Sup Doc Sticker!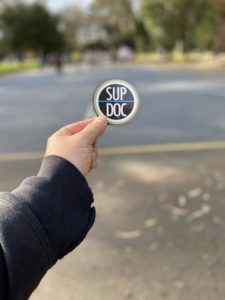 Take your guitar case to the new level with a Sup Doc sticker! These 3×3 vinyl round stickers will make your laptop the hit at Starbucks! Show off your Sup Doc pride by sticking this little sucker to whatever you think is cool enough to have it on it.
Please fill out this quick form and we'll send your FREE sticker to you asap!
You know you want a Sup Doc PIN! (SOLD OUT)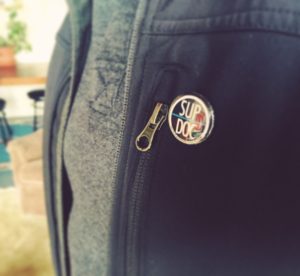 These fashionable pins will be all the rage at your next house party! Wait until one of the party-goers starts going on and on about a documentary they saw and jump right in with info you've learned on Sup Doc.  People will surely ask you if you're a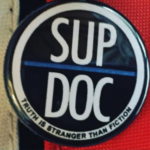 documentary historian. You can then calmly frame yourself in a doorway, give a little wink, point to your Sup Doc pin and state "Nope, but I listen to Sup Doc". Mic drop…just walk away. Don't be surprised if you're the hit of the party!