Sup Doc: A Documentary Film Podcast
Ep 7 COMEDIAN with comedian/podcaster Ivan Hernandez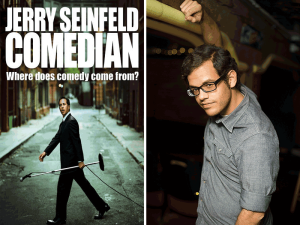 In this episode of  Sup Doc we sit down with comedian Ivan Hernandez to discuss the 2002 Jerry Seinfeld documentary "Comedian", plus we talk podcasts, cooking, and so much more!
Comedian is a 2002 documentary focusing on Jerry Seinfeld that explores the other side of stand-up comedy; that is, the preparation, politics, nerves, creativity, and so on. The film also features an up-and-coming comic named Orny Adams as he struggles to make it in show business. Many other recognizable humorists also make at least a cameo, including Colin Quinn, Greg Giraldo, Jim Norton, Ray Romano, Godfrey, Chris Rock,George Wallace, Mario Joyner, Jay Leno, Tom Papa, and Bill Cosby.The film's unusual trailer featured famous voice-over artist Hal Douglas speaking in a recording booth. The film was theatrically released in the United States on October 11, 2002 and grossed about $2.8 million domestically
Ivan Hernandez is a comic living in San Francisco. He likes food and some social issues and comic books. He has performed at the SF Sketchfest, Bridgetown Comedy Festival, Litquake, Supercon comic convention, International Cannabis and Hemp Expo, Sacramento Comedy Festival, SF Comedy and Burrito Festival, and plenty of other places. Boars, Gore, and Swords, the show he co-hosts with fellow comedian Red Scott, is a member of the Boing Boing podcast network. He produces Give Me Fiction, a monthly prose storytelling show in the basement of Lost Weekend Video.