Sup Doc: A Documentary Film Podcast
Ep 13 FAST CHEAP AND OUT OF CONTROL with Bullseye (NPR) host Jesse Thorn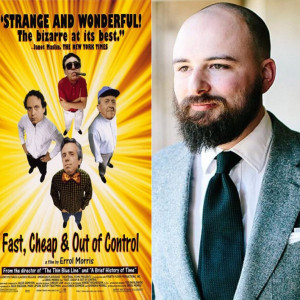 On this edition of Sup Doc we talk with the one and only Jesse Thorn. Jesse grew up in SF, is an early pioneer of podcasting, has a very popular and respected show on NPR called Bullseye with Jesse Thorn runs the podcast network Maximum Fun and dresses real swell. We talk about the Errol Morris documentary Fast, Cheap and Out of Control plus the meaning of life, Mr T, nerd uncles, and Babe Pig In The City among others. Really great talk.
Here is a great article about Jesse from Fast Company: Meet The Most Important Person In Entertainment You've Never Heard Of
Innovative documentary filmmaker Errol Morris often finds a startling surreal edge in the midst of reality, seeking unique subjects, and discovering humor and pathos in odd, off-the-beaten-path locales. After Morris attracted attention with his memorable look at pet owners and pet cemeteries in Gates of Heaven (1978), he traveled into a backwash of quirky humor by filming Floridians in Vernon, Florida (1981). His controversial The Thin Blue Line (1988) helped free the innocent Randall Adams from prison. Morris ventured into drama with The Dark Wind (1991), and he also made a biographical profile of Stephen Hawking, A Brief History of Time (1992). Now Morris returns with a film he described as "four versions of the myth of Sisyphus." Four eccentrics talk about their seemingly diverse lives, interests, and offbeat occupations: Lion tamer Dave Hoover, following paths trod by his hero Clyde Beatty, offers some curious theories about wild animal thought processes; topiary gardener George Mendo clips hedges to create giraffes, bears, and other creatures; mole-rat specialist Ray Mendez researches the insect-like behavior of these hairless, buck-toothed mammals; robotics scientist Rodney Brooks assembles autonomous robots. Morris finds thematic connections relating the four. While Hoover and Mendo provide footnotes on the fading American scene, Mendez and Brooks look to the future. Contrasting viewpoints are edited into an essay on existence and the human condition, incorporating Morris's reflection on his recently departed parents. Morris and cinematographer Bob Richardson employed a variety of film formats — black-and-white, color, 35mm, Super-8, and 16mm. – Rotten Tomatoes
Watch the trailer for Fast Cheap and Out Of Control
Sup Doc on Twitter: www.twitter.com/supdocpodcast
Jesse Thorn on Twitter: www.twitter.com/jessethorn
Bullseye on Twitter: www.twitter.com/bullseye
Watch Jesse's recommended doc: F Is For Fake
Jesse Thorn is the host and producer of Bullseye and Jordan, Jesse, Go!, and the co-host and producer of Judge John Hodgman. He's also the proprietor of MaximumFun.org.
He founded The Sound of Young America in 2000, while a student at the University of California at Santa Cruz. In 2007, the show began to be distributed by Public Radio International, making Jesse the youngest national host in public radio history. The show became Bullseye in 2012, and in 2013 it began being distributed by NPR. The show currently airs on more than fifty public radio stations around the country.
As owner of MaximumFun.org, Jesse oversees a network of more than twenty podcasts, along with video and other content production. The company helped set the template for the modern podcast network, and continues to be a leader in independent, audience-supported media production.
In addition to his work at MaximumFun.org, he hosts and helps produce Put This On, one of the country's most popular web series and blogs about men's style. He also hosted The Grid, a culture recommendation program on IFC, The Sound of Young America on Current TV and has appeared on IFC's Comedy Bang Bang among other television outlets.
A native of San Francisco's Mission District, Jesse lives in Los Angeles with his wife, sons Simon and Oscar and two dogs.