Sup Doc: 2 Doc Dorks Recapping Reality since 2015
Ep 96 THE UNITED STATES OF DETROIT with director Tylor Norwood and comedian Karinda Dobbins

We're offering our listeners an exclusive peek at this film that has only been screening at festivals; email us with the subject line "Detroit" and we'll send you a link. Watching the film will help you follow this conversation, and you'll definitely want to see the film after hearing this episode.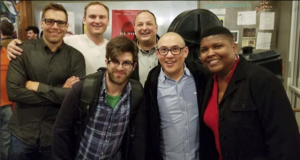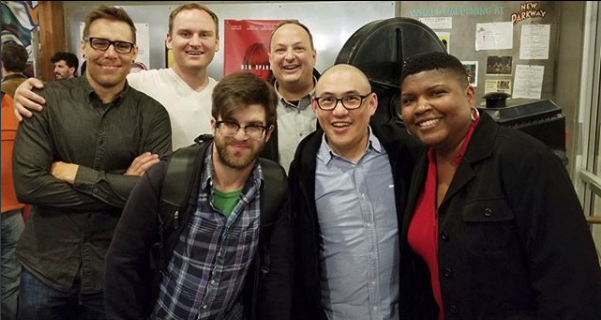 This panel was recorded live in April 2018 at the New Parkway Theater in Oakland. We screened the documentary The United States of Detroit and then talked with the director Tylor Norwood and originally from The Motor City and currently living in Oakland comedian Karinda Dobbins (regularly opens for W Kamau Bell).
After the talk we opened up the evening with questions from the audience!
"The United States of Detroit" was shot over the past year and a half, and Norwood and company came back to the city every two months or so to catch up with their subjects. The film also includes interviews with Free Press editorial page editor and columnist Stephen Henderson and Alexis Wiley, chief of staff for Detroit Mayor Mike Duggan.
Norwood says he faced some resistance during filming. He says he knows he was seen by some of the people he encountered here as just another outsider — someon who would report negatively about the city's problems and then jet off to someplace, anyplace, else. "Detroiters are more than right to be wary of outsiders coming in to tell their story," he says.
Still, he thinks that his film gets the city's story right. The key, he says, is the universality of its message.
"How does someone born into a community with at least as many abandoned houses or lots as good houses turn that around? And how do they empower those around them to do the same?" he says. "These are the stories I wanted to tell."
The film focuses on a few Detroiters, like Pastor Barry, that are making positive street level impacts in a city famous for its negative headlines.
Even with it's heavy subject matter we had a fun, funny and informative panel with Tylor and Karinda. We also end with a Q&A session from the audience.
United States of Detroit will be screening in Washington, DC throughout Sept at the National Museum of African American History and Culture, check their website for details.
Special thanks to Ben Sinclair and Skydojo for organizing this event and the New Parkway in Downtown Oakland for hosting us.
Trailer – The United States of Detroit from Tylor Norwood on Vimeo.