Ep 91 KING OF KONG with comedian Matt Champagne
Sup Doc: Just a couple of Doc Dorks recapping reality


On episode 91 of Sup Doc, we're talking about the cult classic documentary King of Kong: A Fistful of Quarters with comedian and actor Matt Champagne. Matt has performed at the Improv, Laugh Factory, The Comedy Store, San Francisco Punchline, and the Bridgetown Comedy Festival. He appears with national headliners like Christopher Titus, Tom Rhodes, and Natasha Leggero. You may have seen Matt on TV shows like "Will and Grace," "Angel," "Monk," and "NCIS," You can catch him at Stir Crazy Comedy Club in Phoenix, July 26 – 28.
KING OF KONG: A FISTFUL OF QUARTERS is the 2007 documentary that introduced the world to the video game rivalry between Billy Mitchell and everyone else. Directed by Seth Gordon, the film follows a down-on-his-luck family man, Steve Wiebe, who's only solace from unemployment is the 80s arcade game Donkey Kong. On the path to victory there's palace intrigue with record keepers, questionable videotape, and twists that unspool a decade later. We get into recent news about Billy Mitchell's world record scores for "Donkey Kong" and other games finally being stripped away.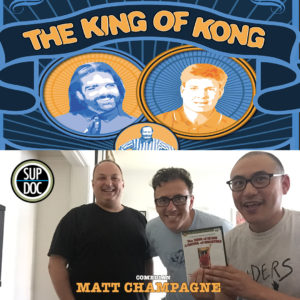 Remember Donkey Kong? This would have been in the early 1980s, and you would have been standing in a video arcade, bar, truck stop or bowling alley, trying to save the damsel in distress from the gorilla. It was voted the third best coin-operated arcade video game of all time. Yes, and now it is 2007 and grown men still pursue each other across the country in pursuit of the world-record Donkey Kong score.
"The King of Kong: A Fistful of Quarters," a documentary that is beyond strange, follows two arch-enemies in their grim, long-term rivalry, which involves way more time than any human lifetime should devote to Donkey Kong. I am reminded of the butler's line in "A New Leaf" to Walter Matthau: "You are carrying on in your own lifetime, sir, a way of life that was extinct before you were born."
In this corner, the man in black, wearing a goatee and looking like a snake-oil pitchman, is Billy Mitchell of Hollywood, Fla., in real life a hot-sauce tycoon (Rickey's World Famous Sauces), who says he is the man who first retailed chicken wings in their modern culinary form in Florida.
That was not enough for one lifetime. He also achieved the first perfect game in the history of Pac-Man, his high score on Donkey Kong stood unchallenged for 25 years, and in 1999, he was named Video Game Player of the Century.
In the other corner, looking like your average neighbor, is Steve Wiebe of Seattle, who got laid off at Boeing the very day he and his wife bought a new house. He has kids, he's likable, and he plays Donkey Kong on a machine in his garage, where we gather he spends hours and hours and hours. He's now working as a high school science teacher. The documentary stares incredulously at the Machiavellian Mitchell, who seems to play the same role in the world of Donkey Kong as masked marauders do in pro wrestling. We hate this guy. Why won't he play Wiebe? What's with that tape he sends in, that seems to show him beating Wiebe's record? Is this little world too heavily invested in Mitchell as its superstar? How long can Wiebe's wife remain supportive of his lonely quest?