Ep 86 THE ZEN DIARIES OF GARRY SHANDLING with comedian Wayne Federman
Sup Doc Podcast – Doc Nerds having funny conversations with interesting guests about their favorite docs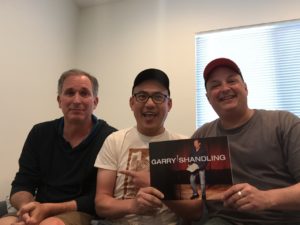 It's the return of Wayne Federman! Our first repeat solo interview guest. George and Paco met up with Wayne at his new house in Los Angeles to discuss the new HBO doc The Zen Diaries of Garry Shandling. Wayne was a co-producer on the film and was a close friend of Garry's. Wayne reflected on his time playing in Garry's now infamous Sunday basketball games, his time acting with Garry on The Larry Sanders Show, his first time meeting Judd Apatow when they were both young comedians plus Wayne's International Film Festival, musical comedians, and much much more.
"It's a show about people trying to get love, and shit gets in the way."
That's how the late Garry Shandling described his groundbreaking sitcom The Larry Sanders Show, an inside-showbiz series about the office culture surrounding a talk show. But the line also sums up the life of Garry Shandling as described by his friend, collaborator, and showbiz pupil Judd Apatow in his two-part documentary The Zen Diaries of Garry Shandling, premiering Monday night on HBO.
Apatow's long (four-and-a-half hour!) tribute to the TV pioneer is the best, most focused thing he's done since Freaks and Geeks. Zen Diaries is an intimate documentary about the man and his work, drawn from an extraordinary array of personal material, including home movies of Shandling's childhood and adolescence in Arizona, photographs from every phase of his life, lengthy scenes and behind-the-scenes clips from The Larry Sanders Show and It's Garry Shandling's Show, and excerpts from the handwritten diaries he kept from the late 1970s until his death in 2016. The diary entries have a personality all their own. As pictured in tight closeups, one or two phrases at a time, they're art objects in themselves, as if somebody recorded a lifetime's worth of muttered comments into bathroom mirrors and transcribed them in cursive.
Shandling, for those less familiar with his work, was part of a wave of 1970s, Los Angeles-based comics who made stand-up more lifelike and less shticky. He created Showtime's It's Garry Shandling's Show(another all-time great) and Larry Sanders, which has been credited with inspiring dozens of other sitcoms, including both versions of The Office. He was the first person to be named permanent guest host of The Tonight Show, then one of the most prestigious gigs in television. His C.V. is impressive enough, but where The Zen Diaries really excels is in its understanding of his psychology. – Vulture
Wayne Federman is an American comedian, actor, author, writer, comedy historian, and musician. He is noted for numerous stand-up comedy appearances in clubs, theaters, and on television; a biography of "Pistol" Pete Maravich; and supporting comedic acting roles in The X-Files, The Larry Sanders Show, Curb Your Enthusiasm, Crashing, Legally Blonde, 50 First Dates, The 40-Year-Old Virgin, and Step Brothers. He was the head monologue writer for NBC's Late Night with Jimmy Fallon in its first season.