MAYhem Month on Sup Doc! 3 Great True Crime Docs the last 3 Mondays in May
Sup Doc A Documentary Podcast: Ep 87 WEST OF MEMPHIS with filmmaker Gavin Michael Booth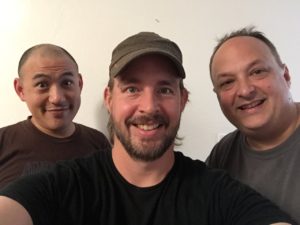 Part 1 of our Mayhem True Crime series starts off with West of Memphis. We recap this follow up to the Paradise Lost series with horror filmmaker Gavin Michael Booth. Gavin is shooting a new feature film this summer and make sure to check out his newly released music videos for artist SYML titled "Body" and "The War"!
Canadian born director Gavin Michael Booth's film, music video and commercial work has been featured around the globe in theatres, on television and online. His work includes collaborations with Third Eye Blind, NBCUniversal, Sony Pictures, Blumhouse, Royal Bank of Canada and more. Currently, LA based, Gavin is available for projects in the U.S. & Canada.
I have followed the West Memphis 3 case since the '90s and feel this is the decisive documentary on the subject – Gavin Booth
As with the Paradise Lost film and its two sequels, West of Memphis follows the events of the West Memphis Three, a case in which three teenagers (Jessie Misskelley, Damien Echols, and Jason Baldwin) were arrested for the murders of three 8-year old children.
The West Memphis Three were subsequently convicted of murder and remained in prison for more than 18 years. West of Memphis focuses on Terry Hobbs, stepfather of Stevie Branch, one of the victims of the 1993 crime, as a potential suspect. There is physical evidence linking Hobbs to the crime, a history of violent behavior and his lack of an alibi for the time the murders were committed, as well as damaging statements made by his ex-wife, former neighbors, and most recently his own nephew, who claims Hobbs confessed to him. The film reveals that inexplicably Terry Hobbs was not interviewed by police at the time of the murders.
Since the 1996 release of the HBO Joe Berlinger and Bruce Sinofsky documentary, Paradise Lost: The Child Murders at Robin Hood Hills, supporters protested the innocence of the West Memphis Three. Much like the Paradise Lost films, West of Memphis chronicles the history of the imprisoned men all the way up to the eventual release through interviews conducted with lawyers, judges, journalists, family members, witnesses, and the West Memphis Three themselves. With the January 2012 HBO premiere of the third Paradise Lost film, Paradise Lost 3: Purgatory, there were two documentary films on the subject within a year.
West of Memphis premiered at the Sundance Film Festival on January 21, 2012, at the Deauville American Film Festival on September 2, 2012, and at the Toronto International Film Festival on September 8, 2012