Ep 80 I AM SAM KINISON with director Adrian Buitenhuis
Sup Doc Podcast A Documentary Film/Comedy Podcast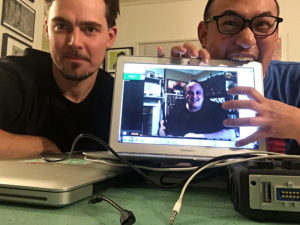 On today's episode we spoke with the
Director
of
I AM SAM KINISON
,
Adrian Buitenhuis
. We learn about his start in documentary filmmaking, and why the legacy of Sam Kinison is worth revisiting decades after his cultural peak  and his untimely death. I AM SAM KINISON is available on iTunes and The Paramount Network, the recent rebrand of Spike TV.
I Am Sam Kinison
is a
feature-length documentary
film exploring the life and legacy of shock comic
Sam Kinison
, a former Pentecostal preacher turned stand-up comic who repurposed his pulpit-honed chops to the brazen rock 'n roll world of MTV-era comedy. Following a steep trajectory to fame, excess, despair and near-redemption, Sam meets a sudden and early death when struck by a drunk driver in 1992. Using extensive clips from his comedy specials that cover some of his favorite topics including marriage, women, homosexuality, God, religion and world hunger Sam tells much of his story himself in a barrage of comedic feints and blows, shrieking and misanthropic riffing. Added perspective is provided by a dynamic cast of friends, family, fellow comics and celebrity party-mates, augmented by animated sequences that illustrate and add color to energetic and often hilarious interviews. Key interviews include the inspired storytelling of
Jay Leno, Bill Burr, Ted Nugent, Charlie Sheen, Joe Rogan, Corey Feldman, Bob Saget, Tommy Chong, Ron Jeremy,
and others. Starting with a childhood head injury, Sam's story plots a course of failure, from his time as a Pentecostal preacher, culminating in a humiliating marriage. Finally stepping onto a comedy club stage in Houston, he finds his voice and true calling but it takes years of struggle before mainstream audiences are ready to hear his message. Yet with all the unbridled profligacy of his eventual fame and fortune, Sam never loses his faith in God and his raucous story is replete with biblical themes fueled by sex, drugs and rock 'n' roll. I Am Sam Kinison shocks, shticks and screams its way through a life and a wild career that shattered the status quo and changed comedy forever.
Samuel Burl Kinison
 (December 8, 1953 – April 10, 1992) was an American 
stand-up comedian
 and actor. He was known for his intense, harsh and politically incorrect humor. A former 
Pentecostal
preacher
, he performed stand-up routines that were most often characterized by an intense style, similar to charismatic preachers, and punctuated by his trademark scream.
Adrian Buitenhuis
's ability to engage with people and convey their personal stories has created an intimate body of documentary work that continues to grow. Adrian has directed and produced documentaries for Sony Pictures, CBS and Vice Media among others. Since joining forces with
Network Entertainment
, he has directed documentaries on
Pablo Escobar
&
Suge Knight
as part of the seven-part series, Facing, for National Geographic.
I Am Heath Ledger
is the first of two feature-length documentaries he is directing in the I AM series this year.