Sup Doc: A Documentary Film Podcast
Sup Doc Ep 45 WEINER with comedian and VICE writer Megan Koester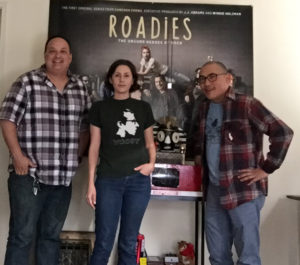 On episode 45 of Sup Doc Paco and George talk with VICE writer and comedian Megan Koester about the 2016 documentary Weiner. This documentary centers around ex-Congressman Anthony Weiner as he navigates the fallout (his wife, Huma Abedin, recently separated from him) of yet another alleged sexting scandal — his second since landing in hot water after tweeting explicit photos of himself to a woman via Twitter in 2011 — buzz surrounding the recently-released documentary about his life, aptly titled Weiner, has reached an all-time high.
The social and political aftermath of Weinergate 2011 is intensely chronicled in Josh Kriegman and Elyse Steinberg's sometimes endearing, often uncomfortably funny, endlessly fascinating portrait of the former New York congressman.
We also find out more about Megan and talk about movies, politics, Woody Allen, and dick pics.
Megan Koester is a writer and comedian (obviously) who resides in Los Angeles (somewhat less obviously). A columnist for VICE, she co-produces Entitlement, a monthly comedy show with other VICE scribes which has had the pleasure to host such notables as Neil Hamburger, Marc Maron, Kyle Kinane, Maria Bamford, Kurt Braunohler, Reggie Watts and Andy Kindler (who she collaborated with on her "How Not to Be a Stand-Up Comedian" article for VICE). She's performed at SF Sketchfest, the Hollywood Improv, the SF Punchline, Tomorrow!, The Grawlix, Chicago Underground Comedy, and countless other shows across this great land we call America. She has her very own track on the Holy Fuck Live Comedy album, which you can listen to on Spotify if you're so inclined. She USED to be a staple of those Huffington Post "Women You Should Follow on Twitter" lists until she started making a big stink about them being patronizing; she's also one third of the all-female (sorry) sketch group Blessed. A Witstream contributor, she's been featured on Splitsider and is finding it very hard to continue writing this bio in the third person. Most importantly, she has the distinction of being the first person to eat a 12" flatbread Veggie Delight Subway sandwich on stage, a fact she'll take to her cold, lonely grave. You can follow her on Twitter at http://www.twitter.com/bornferal.