Sup Doc: A Documentary Film Podcast
Ep 46 HOME MOVIE with comedian Amy Miler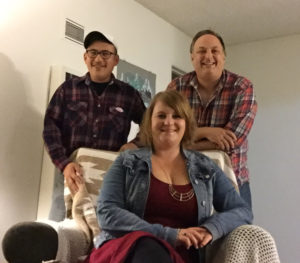 Sup Doc Ep46: Hosts George Chen and Paco Romane sit down with comedian Amy Miller (Last Comic Standing, Kill Rock Stars) to discuss the 2001 doc Home Movie a witty look at five unusual homes that have been designed to match the ideas and eccentricities of the people who own them.
Ben Skora is a self-styled inventor who has tricked out his Illinois home with a variety of unusual gadgets, among them a nine-foot-tall robot. Linda Beach, an American actress who enjoyed a successful career in Japanese television, lives in a tree house in Hawaii that draws its power from a nearby waterfall. Bill Tragle's home is also close to the water, as the Louisiana alligator rancher shows off his luxurious houseboat. Ed Pedan and his wife Diana Pedan have made a home out of an abandoned underground complex in Kansas, built and then abandoned by the American military. And Bob Walker and Francis Mooney designed their home not with their own needs in mind, but those of their 11 pet cats. Directed by Chris Smith, who previously made the acclaimed documentaries American Job and American Movie, Home Movie had its premiere at the 2001 Sundance Film Festival.
Amy Miller is a fast-rising talent on the West Coast and national scene. Originally from Oakland, California Amy found her comedy chops in the Bay Area scene and is still a favorite at the San Francisco Punch Line and Cobb's Comedy Club. After a move to Portland, Amy quickly rose to the top of the Northwest comedy scene, winning Portland's Funniest Comedian in Helium Comedy Club's contest, as well as being voted Portland's Funniest 2013 and 2015 in the Willamette Week. Amy was a breakout favorite in Season 9 of Last Comic Standing. Roseanne Barr called her "a star" and a "contender for next alpha female comedian." Keenen Ivory Wayans said she had one of the "fiercest jokes he had ever heard." Amy is currently in Portland being alpha and fierce and getting rained on, but works comedy clubs and festivals around the country, working with headliners from Norm Macdonald to Arsenio Hall to singer Ryan Adams.
Look for Amy's new comedy cd SOLID GOLD is out NOW on Kill Rock Stars.