Sup Doc: A Documentary Film Podcast
Ep 33 HOW TO DRAW A BUNNY with comedy producer Jeff Zamaria

Paco and George dig into the enigmatic artist Ray Johnson's life and death with our guest, San Francisco comedy promoter/booker Jeff Zamaria. This 2002 documentary directed by John Walter and Andrew L. Moore tries to unwrap the mystery of this central figure in the Fluxus and mail art movement who was known for legendary performances like dropping hot dogs from a low-flying helicopter. A contemporary of Andy Warhol's Ray came out of the legendary Black Mountain College art program. The documentary How To Draw A Bunny was the product of six years of research into Johnson's archives and interviews with figures like Christo, Chuck Close, Roy Lichtenstein, Judith Malina, and James Rosenquist. The soundtrack includes improvised drumming by Max Roach and additional music by Thurston Moore.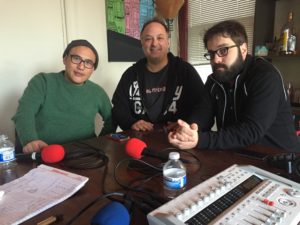 Jeff Zamaria is a comedy booker/show producer in San Francisco and the creator of Learn From Me Comedy. He can be seen producing shows all over SF. Originally from "The Mistake On The Lake" (Cleveland, OH), Jeff has been living, sleeping, walking, working, looking and playing in San Francisco since 2005. When he's not working on comedy, he's giving neighborhood folks questionable service at The New Village Cafe. Sure it's just a side job, but it's his passion. He is also single and currently accepting applications. Find Jeff's work at http://www.instagram.com/jeffzamaria/
Dead Bunny by John Held, Jr.