Sup Doc Podcast – feels like 
?

We review the controversial Woodstock 99: Peace, Love, and Rage (directed by Garrett Price) out now on HBOMax.
Boomer nostalgia meets nu metal in a fight where no one wins. The ceremonies took place in Rome, New York in 1999, three decades after the initial Woodstock festival. Seemingly small logistics issues roll into a massive (and literal) shitshow, sprinkled with arson, sexual assaults, and at least one fatality.
Do Bill Simmons' and HBO lay the blame where it belongs, or are they re-exploiting these events for a quick payday two decades later?
*Netflix is now reported to have its own version of events in the works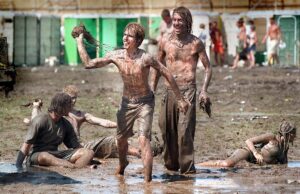 Chaki is a funky alien wizard from Outer Space. With his unique take on electro funk, he has brought his weird ass stage show to festivals like Noise Pop and The Offbeat Fest. Chaki has shared the stage with like minded weirdos Peelander Z, El Vez, Bob Log III, Metalachi, Captured By Robots and The Oingo Boingo Dance Party. Rolling Stone said he is like Prince except not sexy and much fatter.
Adam Papagan is a native of Los Angeles who has always been media and pop-culture obsessed. He's had a lot of projects- music, public access television, art- but makes a living in the tourism industry, guiding guests through his own O.J. Simpson Tour. He's running for Governor of California during the Sept 14th recall election.