Ep 142 NOMA: MY PERFECT STORM with comedian Derek Sheen

 Today marks a very special day for us! It's our 5 year anniversary!
And to celebrate we're talking food documentaries all month long for Munchie May, our brand new theme series.
Paco and George chat with comedian Derek Sheen to recap the gripping food documentary
Noma: My Perfect Storm
. For three years running, Noma in Copenhagen was voted the Best Restaurant In The World. This put an immense amount of pressure on René Redzepi, the driven chef who has up-ended the food world and put Nordic cuisine on the map. He has an attitude and brilliance that is undeniable but he starts questioning his own motivations and ideas about success.
This was a great talk as we find out Derek and Paco actually have met before in a tender moment, Derek's dad was a real life mobster, and of course we talk food, success, failures, bosses, dining in and dining out and recap this great doc!
Our guest Derek Sheen is a cuddly mess of insecurities and a gifted, one-of-a-kind storyteller. His dark humor has made Derek a cult favorite of comedy nerds everywhere. He has amassed a loyal fan base touring with comedy legends Brian Posehn, Patton Oswalt, and Janeane Garofalo. Derek has released four critically acclaimed albums on Stand Up! Records, with Grammy Winning producer Dan Schlissel. The most recent, "Macho Caballero", just came out in April 24th and is on streaming services everywhere.
T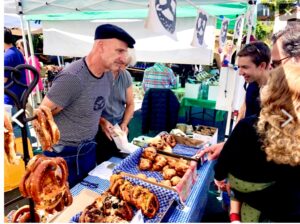 his episode was sponsored by
Squabisch. Squabisch sells at Farmers Markets and Pop-up events in the East Bay. Due to the coronavirus pandemic, Squabisch has started to offer their pretzels via
curbside pick-up
and some
local delivery
from their bakery in Berkeley. 
In addition to  traditional German Pretzels, Squabisch is known for selling over 30 varieties of artisan pretzels – such as Anchovies & Capers; Prosciutto & Ham, Pesto & Mozzarella; Salted Caramel! 
"Schwaebisch Food with a California Twist"!