Sup Doc A Documentary Podcast with doc dorks Paco Romane and George Chen
Ep 102 The Brett Morgen Interview (JANE, KURT COBAIN: MONTAGE OF HECK, KID STAYS IN THE PICTURE)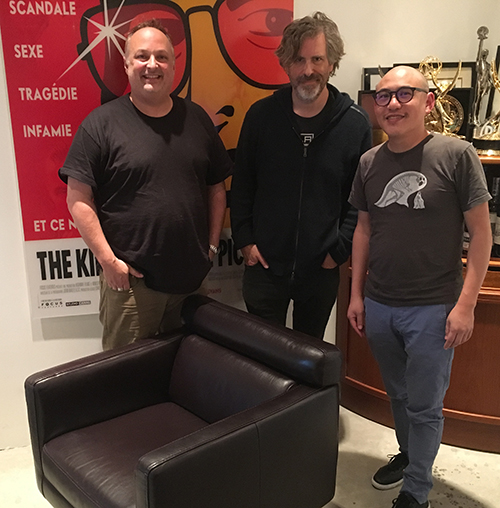 Did you know you can hear previously unheard Rolling Stones music in the documentary Crossfire Hurricane?
Paco travels to Los Angeles to meet up with George as they sit down with the award-winning and ground-breaking documentary filmmaker Brett Morgen. We have an incredible conversation that includes: making films for yourself, the creative condition, filmmaking, amazing anecdotes about working with Jane Goodall, Phillip Glass, Mick Jagger, Robert Evans, plus The Kid Stays in The Picture, Montage of Heck, On The Ropes and Jane!
"There is no safety net – you have to write your own script. Don't wait for the phone to ring. Come up with your own ideas" – Brett Morgen
Brett Morgen is a writer, director, producer, and editor who has been making ground-breaking documentaries for more than twenty years.  Dubbed "the leading revolutionary of American documentary film" by the Wall Street Journal, Morgen's films consistently challenge the existing boundaries of non-fiction.  His credits include JANE (2017), KURT COBAIN: MONTAGE OF HECK (2015), CROSSFIRE HURRICANE (2012), 30FOR30: JUNE 17, 1994 (2010), CHICAGO 10 (2008), NIMROD NATION (2007), THE KID STAYS IN THE PICTURE (2002), and ON THE ROPES (1999).
This year, Morgen won the Producers Guild Award, the Writers Guild Award, and the A.C.E. Eddie award for Best Edited Documentary, as well as the Primetime Emmy Award for Outstanding Directing for Nonfiction Programming, for JANE.  The film was also named Best Documentary of 2017 by the Critics' Choice Awards, the Motion Picture Sound Editors Guild, the Cinema Audio Society (CAS), the National Board of Review, and 18 other critics' groups. It also received the Audience Award and the Best Score Award at the 2017 Cinema Eye Honors.  In 2018, the film received a BAFTA nomination for Best Documentary and won two Primetime Emmy Awards, for Best Cinematography and Directing. The film's seven Primetime Emmy nominations were the most for any nonfiction film this year. Vogue has called JANE "one of the best documentary films of all time."
Additional career awards and honors include an Academy Award nomination for Best Documentary in 2000, two Peabody Awards, the DGA Award, two International Documentary Association Awards (Best Documentary for ON THE ROPES and Best Editing for MONTAGE OF HECK), eight Primetime Emmy Nominations (two each as a writer, director, producer, and editor), 18 Primetime Emmy nominations for his past three films, and Best Documentary Emmy nominations for each of his last four films, among many others.  In 2007, he received the True Vision award from the True/False film festival. His work has been screened at festivals around the world, including at Cannes, Berlin, Sundance, New York, and Toronto.
Mr. Morgen is the only working filmmaker to have been awarded the highest craft awards from all four guilds that recognize achievement in documentary filmmaking: the DGA, PGA, A.C.E., and WGA.