Sup Doc – The #1 Podcast About Documentaries
By Documentary Fans. For Documentary Fans
George interviews director Arthur Jones and producer Giorgio Angelini about their feature documentary film Feels Good Man. How did the innocuous indie comics character created by Matt Furie get hijacked as an icon for white supremacists? Jones details the evolution of a Frankenstein's monster brought to life by 4chan and his creator's attempts to right the wrongs done in the character's name. First time director Jones debuted the film at Sundance and ended up winning the U.S. Documentary Special Jury Award For Emerging Filmmaker. The film is on the festival circuit but if you have even a passing interest in online radicalization, memes, intellectual property law, or comics culture, this is a story you will want to hear.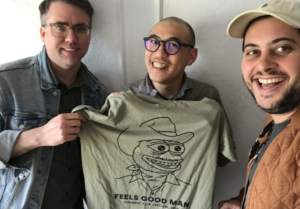 Arthur Jones is a director, animator and graphic designer. Feels Good Man is his feature debut. He won the U.S. Documentary Special Jury Award for Emerging Filmmaker at Sundance 2020.
Jones seeks to tells stories where art and politics converge in unexpected ways. He's a graduate of Rhode Island School of Design.
Giorgio Angelini came into film from a longer, multi-faceted career in the creative arts. After touring in bands like The Rosebuds and Bishop Allen for much of his 20s, Giorgio enrolled in the Masters of Architecture program at Rice University during the depths of the 2008 real estate collapse. This experience inspired his directorial debut feature documentary, Owned, A Tale of Two Americas. Giorgio also served as the executive producer for the feature film My Friend Dahmer (2017) and directed a documentary-short for celebrated performance artist Mary Ellen Carroll entitled My Death is Pending…Because.