Sup Doc The Premier Podcast About Documentaries
Ep 136 MISS AMERICANA with comedian Brooke Heinichen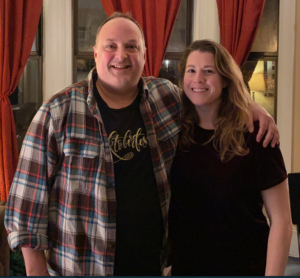 On Ep 136 host Paco Romane sits down with comedian Brooke Heinichen to recap and discuss the Netflix documentary Miss Americana. Brooke guides Paco thru the life and albums (seriously, Brooke made a album to album synopsis) of Taylor Swift. They also talked about being a woman in Entertainment, technology, ageism, Brooke's pet peeve and you get to hear Paco do a horrible British accent!
Watching Miss Americana you get the feeling that the entire documentary wants you to see Taylor Swift as we first see her – sitting relaxed and drinking coffee, looking through her journal and talking about her past relationships and what kind of person she sees herself being in the future. These quiet solo moments are a world removed from her giant, arena shows that are packed with adoring fans. In one telling moment we see Taylor look from behind a curtain as if she is still surprised that fans come see her shows. This documentary can feel like its made more for  long time fans of Taylor's. If you watch Miss Americana as someone that doesn't yet know much about her you'll leave with a feeling that there is much more to talk about what makes Taylor Swift…Taylor Swift.
Brooke Heinichen is a San Francisco stand-up comedian. She is the winner of the 2019 Rooster T Feather's comedy competition, out of 180+ comics. She has performed at the 2018, 2019 and 2020 SF Sketchfest, selected as one of Audible's Fresh Faces of Stand-Up (a show highlighted in USA Today), and opened for Janeane Garafolo. She was selected for the 2018 SF International Comedy Competition, and has performed at the SF Punch Line, Cobb's Comedy Club and is a paid regular at Rooster T. Feathers. She has studied satire writing with The Second City, and her jokes have been featured on the front page of Reddit and as the Joke of the Week at the DNC Speechwriters office. She produces monthly Bay Area showcases Resistance is Fertile and Brave New Jokes.
Listen to Brooke's handpicked Taylor Swift Spotify Playlist.
Aaaaaaaaand Brooke's Album to Album Taylor Swift info breakdown!