Sup Doc: A Documentary Film Podcast
Ep 4 THE SOURCE FAMILY with film director Jodi Wille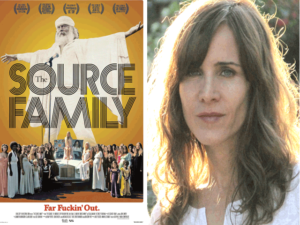 We talk about the doc The Source Family with the co-director of the film Jodi Wille. Jodi is also a programmer at Cinefamily in Los Angeles. We explore radical spiritual cults, sub-cultures, and the source behind The Source Family, Father Yod aka Yahowha. We also talk about the UFO cult UNARIUS and their film The Arrival. Special thanks to the San Francisco International Film Festival for the interview space. 
The Source Family is a 2012 feature documentary film directed by Jodi Wille and Maria Demopoulos that recounts the story of Father Yod, Ya Ho Wa 13 and the Source Family.
The film premiered in competition at South by Southwest Film Festival 2012 and screened at festivals Silverdocs, Seattle International Film Festivaland San Francisco International Film Festival, with special screenings at True/False Festival "Boonedawdle" and Hot Docs Canadian International Documentary Festival "Doc Soup" series.
In May 2013, the film was released theatrically, premiering at IFC Center in New York City, where its run was extended for over a month. The film screened in 60 cities and had extended runs in Los Angeles, Portland, San Francisco, and Nashville. It is distributed by Drag City and Gravitas Ventures.
From the Internet Movie Database: The Source Family was a radical experiment in '70s utopian living. Their outlandish style, popular health food restaurant, rock band, and beautiful women made them the darlings of Hollywood's Sunset Strip; but their outsider ideals and the unconventional behavior of their spiritual leader, Father Yod, caused controversy with local authorities. They fled to Hawaii, leading to their dramatic demise. Years later, former family members surface and the rock band reforms, revealing how their time with Father Yod shaped their lives in the most unexpected ways.
The Source Family provides a view of the group through their own archival photos, home movies, audio recordings, and contemporary interviews with members of the family. Serving as a highly personal, insider's guide to the counter-culture movement of the early 70s, the film is inspired by the cult-classic book The Source: The Story of Father Yod, Ya Ho Wa 13, and The Source Family (Process Media) which was written by Isis Aquarian and Electricity Aquarian and edited by director Jodi Wille.
Jodi Wille is an American filmmaker, book publisher, and curator known for her work exploring American subcultures. In 1993, R.E.M. gave Wille her first paid directing gig for their "Find the River" music video.  Signed to DNA (David Naylor & Associates), she directed a number of music videos in the mid-90s. Wille worked prior to that as assistant to music video and commercial director Samuel Bayer and later as assistant and development consultant to feature film director Roland Joffé. Wille directed and produced The Source Family, her first feature-length documentary, with Maria Demopoulos. The film, which explores the rise and fall of the eponymous 1970s Los Angeles utopian community, premiered in competition at South by Southwest Film Festival in March 2012 and sold out screenings there and at several other major festivals. The Source Family was released theatrically to 60 cities in May 2013 through Drag City Film Distribution. Wille has also worked as a photographer since the 90s, focusing her documentary work on radical spiritual groups and visionary artists and working with musicians such as Sparks (band), Vincent Gallo, Melissa Etheridge, and the Dwarves. In 1998, Wille co-founded (with Steve Nalepa, Nick Rubenstein, and Hedi El Kholti) Dilettante Press, a publishing house with a focus on self-taught, visionary, and vernacular art and photography. In 2005, Wille and her then-companion Adam Parfrey of Feral House founded Process Media, with an emphasis on non-fiction, literary memoirs, and illustrated books that explore American subcultures and creative visionaries such as Roky Erickson and the 13th Floor Elevators, John Sinclair and MC5, Ya Ho Wa 13 and Father Yod, Moondog, and Andy Kaufman. Process has also created a "Self-Reliance Series" of illustrated guide books that promote sustainable and self-sufficient living.
In 2008, the couple left Los Angeles and moved their publishing operations to Port Townsend, Washington.
In 2000, Wille, Hedi El Kholti, and Cheryl Dunn co-curated the first exhibition of Gary Lee Boas' work, "Starstruck: Photographs from Fan", at Deitch Projects, which led to exhibitions at major galleries and museums in the U.S. and throughout Europe, including Galerie Kamel Mennour in Paris, Yerba Buena Center for the Arts in San Francisco, and The Photographers' Gallery in London.
In 2013, Wille was named co-curator, with Rebecca Alban Hoffberger, of the 2014–2015 American Visionary Art Museum multi-artist exhibition "The Visionary Experience: St. Francis to Finster," to open October 4, 2014, and run through September 7, 2015.