Sup Doc A Documentary Film Podcast
EP 52 TICKLED with the band YACHT (Jona Bechtolt and Claire Evans)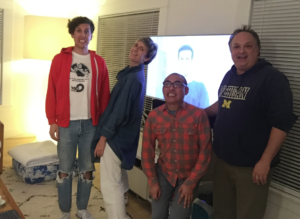 Paco and George sat down with the band YACHT to talk about the delightfully topsy-turvy doc Tickled.
Tickled is a 2016 documentary about "competitive endurance tickling" and videos featuring it, and the practices of those producing the videos, directed by David Farrier and Dylan Reeve. The film explores possible legal and ethical issues with certain individuals making the videos, and has itself been the subject of legal challenges.
It was funded on Kickstarter in June 2014,  and also by the New Zealand Film Commission.
David Farrier, a New Zealand "light entertainment" television reporter, sees videos online about an activity described as "competitive endurance tickling", in which young athletic men are restrained and tickled by each other; he begins to research it for a story. However, his inquiry to video producer Jane O'Brien Media elicits a hostile reply, focusing on his bisexuality and asserting that the sport is a "passionately and exclusively heterosexual athletic endurance activity". Farrier partners with television producer Dylan Reeve to learn more about tickling videos and the people who produce them.
After blogging about the incident, they receive legal threats from Jane O'Brien Media, who send Kevin Clarke and two other representatives to New Zealand. Although their interactions are superficially cordial, the Jane O'Brien Media people seem intent on bullying the investigators into dropping the project. Farrier and Reeve respond by traveling to Los Angeles, and find the representatives at a site where the company records videos, but are turned away at the door.
Researching the phenomenon further, they uncover information about a person known as Terri DiSisto (alias "Terri Tickle"), who pioneered recruiting and distributing tickling videos online in the 1990s. They interview independent tickling-video producer Richard Ivey whose operations are a low-key affair with an acknowledged homoerotic aspect. They speak to a few former participants in Jane O'Brien Media's videos, who describe coercive and manipulative treatment by the producers, such as defamation campaigns against them, exposing their personal information and contacting school or work associates to discredit them as homosexual or as sexual deviants, in retaliation for challenging or speaking out against the company. A local recruiter in Muskegon, Michigan, describes "audition" videos he had helped make, which were published by O'Brien Media without the participants' consent.
Farrier and Reeve chance upon documents on a defunct tickling-video web site, which link Jane O'Brien Media to David D'Amato, the former school administrator behind the "Terri Tickle" alias. They learn that D'Amato had served a six-month prison sentence for disabling computer systems at two different universities on multiple dates, in retaliation against an 18-year-old male student who attempted to terminate their online relationship, begun when the young man was 17. They determine that D'Amato now lives on a substantial inheritance from his father, a successful lawyer. After considerable effort to locate him, they confront him on the street, to which he responds with additional legal threats. Before returning to New Zealand, Farrier contacts D'Amato's step-mother for comment; she implicitly confirms her step-son's "tickling" past, and Farrier informs her that he believes D'Amato is still involved in it.
YACHT is an American dance-pop band from Portland, Oregon, currently based in Los Angeles, California. The core group consists of Jona Bechtolt, Claire L. Evans, and Rob "Bobby Birdman" Kieswetter.
Yacht has released albums on States Rights Records, Marriage Records, DFA Records, and Downtown Records.
For Patreon patrons – exclusive 20 minutes of YACHT conversation that was cut out of this episode.