Sup Doc Podcast – We Talk Documentaries
Ep 163 RODENTS OF UNUSUAL SIZE directors Chris Metzler, Jeff Springer, Quinn Costello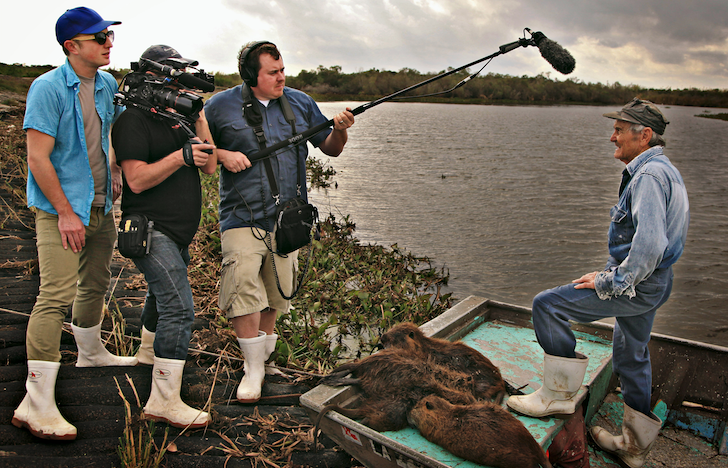 On episode 163 host George Chen talk with a team of filmmakers who specialize in outsider Americana documentaries. The three co-directors of Rodents Of Unusual Size share their road to the bayou via country music videos, bringing the humanity to environmental stories, and what parasites to watch out for. We also discuss their other feature Everyday Sunshine: The Story of Fishbone, and Plagues & Pleasures On the Salton Sea.
CHRIS METZLER (Co-Director/Producer)
After graduating from USC with a degree in business and cinema, Metzler's film career has taken him from the depths of agency work, to coordinating post-production for awful American movies seen late at night in Belgium. His film directing and producing work has resulted in frequent partnerships with Jeff Springer, where together they've criss-crossed the country with the aid of caffeinated beverages and made their way in the Nashville country and Christian music video industries, before finally forsaking their souls to commercial LA rock n' roll. These misadventures evening culminated in them winning a Billboard Magazine Music Video Award.
He eventually joined the independent documentary film scene to start work on his feature length directorial debut with Jeff Springer – the offbeat environmental documentary, PLAGUES & PLEASURES ON THE SALTON SEA, which was narrated by legendary counterculture filmmaker and "King of Trash" John Waters. The film went on to win over 37 awards for Best Documentary and was named by Booklist as one of its Top 10 Environmental Films. A cult favorite, the film was released theatrically in the United States and broadcast nationally on the Sundance Channel.
JEFF SPRINGER (Co-Director/Cinematographer)
Jeff Springer was born in an abandoned town in the California desert, raised in Hawaii, and educated at USC Film School. After working at a dilapidated film studio in Russia, he returned to Los Angeles and began editing cheesy (but action packed) promos for NBC, Paramount, Warner Bros and Capitol Records. After moving to San Francisco, he found himself on Lucasfilm's Skywalker Ranch, editing behind-the-scenes documentaries for a not-very-well received science fiction prequel.
Craving the unexpected, he directed his first feature documentary PLAGUES & PLEASURES ON THE SALTON SEA with Chris Metzler, about the off-beat residents, environmental disasters and flooded towns surrounding California's Salton Sea. The film went on to screen at 200 film festivals worldwide, won 37 awards for Best Documentary.
After working in London and Berlin, Springer has gone on to make numerous documentaries, including photographing and editing EVERYDAY SUNSHINE: THE STORY OF FISHBONE for PBS, which was narrated by actor Laurence Fishburne. He then lived in Afghanistan to edit the documentary IN-JUSTICE, about women imprisoned for supposed "moral crimes." Recently he directed and photographed several short docs and an Emmy-nominated hour-long special for the show ARTBOUND for KCET in Los Angeles.
QUINN COSTELLO (Co-Director/Editor)
Quinn Costello is remarkably unequipped to live off the land for having grown up in rural Idaho. After exhibiting no ability to hunt he fled to study film at a hippie college in Olympia, Washington, only to find himself years later making a film about hunters.
After relocating to the Bay Area, Quinn began editing documentaries on subjects ranging from environmental justice, sacred islands and dancing spiders. His portfolio of work has been seen on PBS, The Learning Channel, Sundance Channel and innumerable film festivals including Tribeca and Mountainfilm in Telluride. For the past ten years he has been editing the Emmy award winning Public Television series THE NEW ENVIRONMENTALISTS narrated by Robert Redford. RODENTS OF UNUSUAL SIZE is his feature length directorial debut.