Sup Doc Podcast – The Premier Podcast About Documentaries
Ep 131 THE LION'S SHARE with comedian and musician Phil Johnson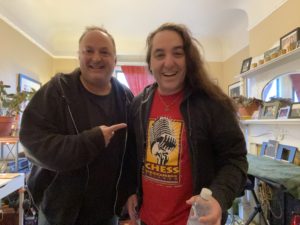 On episode 131 of Sup Doc host Paco Romane sits down with comedian and musician Phil Johnson to recap the 2019 Netflix documentary The Lion's Share.
To put it bluntly the music business is brutal. From royalties and demanding record labels to artists being sued for copyright infringement, it's sometimes difficult to remember a time when these things weren't the norm. The Lion Sleeps Tonight is one of the most recognisable songs in our history, under the original title "Mbube" written and recorded in 1939 by South African singer Solomon Linda. Through a combination of chicanery and misunderstanding This international hit song is a complex tale of artist exploitation, though only its circumstances make it out of the ordinary. The attempts to right this wrong are the subject of The Lion's Share, the latest episode of Netflix's music documentary series, Remastered.
Our guest is comedian and musician Phil Johnson  who because of his long hair often gets mistaken for a woman, but only by those not paying attention. That revelation kicks off a battle for self-awareness where comedy and music are the weapons of choice. It's a battle that has taken Phil to such esteemed festivals as the Edinburgh Fringe and Sundance Film Festivals and the Top 8 Finals of the World Series of Comedy.
Follow Phil Johnson on:
Twitter: @roadsidephil
Instagram: @philjohsoncomedy
Follow Sup Doc on:
Twitter: @supdocpodcast
Instagram: @supdocpodcast
Facebook: @supdocpodcast
And you can show your support to Sup Doc by donating on Patreon