Sup Doc! The Premier Podcast About Documentaries! By doc fans for doc fans!
Sup Doc Quiz Show LIVE in SF Sketchfest 2019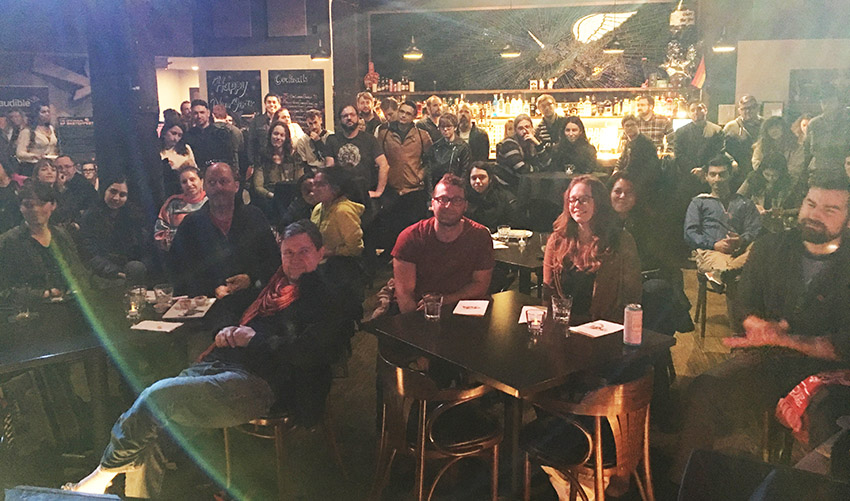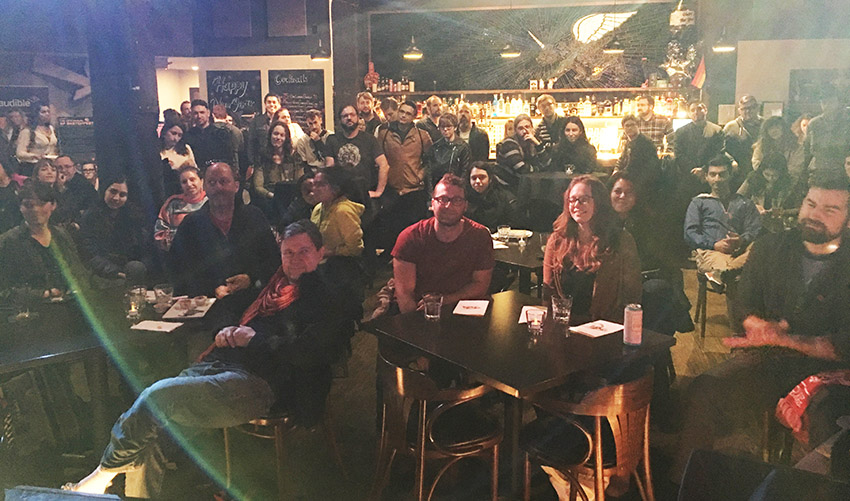 Our very first Sup Doc Documentary Quiz Show was amazing! Standing room only! Our esteemed guests and comedians Alex Falcone (Voted Portland's Funniest Person),  Kate Willett (Netflix, Jim Jefferies Show), Mike Drucker (The Tonight Show, Full Frontal with Samantha Bee), and Molly Sanchez ( Failure to Launch, Red All Over: A Handmaid's Tale Recap) were hilarious, smart and ready for some documentary trivia!
The contestants broke off into two teams: Making of a Loiterer (Kate Willett and Alex Falcone) and Bowling for Quizumbine (Mike Drucker and Molly Sanchez). The evening started off with a little introduction and interview with each guest and also a brief recap of a documentary of their choice.
Our first game was a 'suspenseful' round of True or False. This led right into a challenging Cast This Doc,  a confrontational Guess The Title and ended in a heated round of Fill in The Blank. We obviously didn't spend anytime on coming up with funny game titles for this show. Also as you will hear we had some tech issues and a host of other issues that turned into pure comedy.
It was a photo finish at the end and you'll have to listen to find out which winning team won George's Netflix password and which losing team just got his Starz password.
Thanks to SF Sketchfest, the San Francisco Comedy Festival for the awesome night!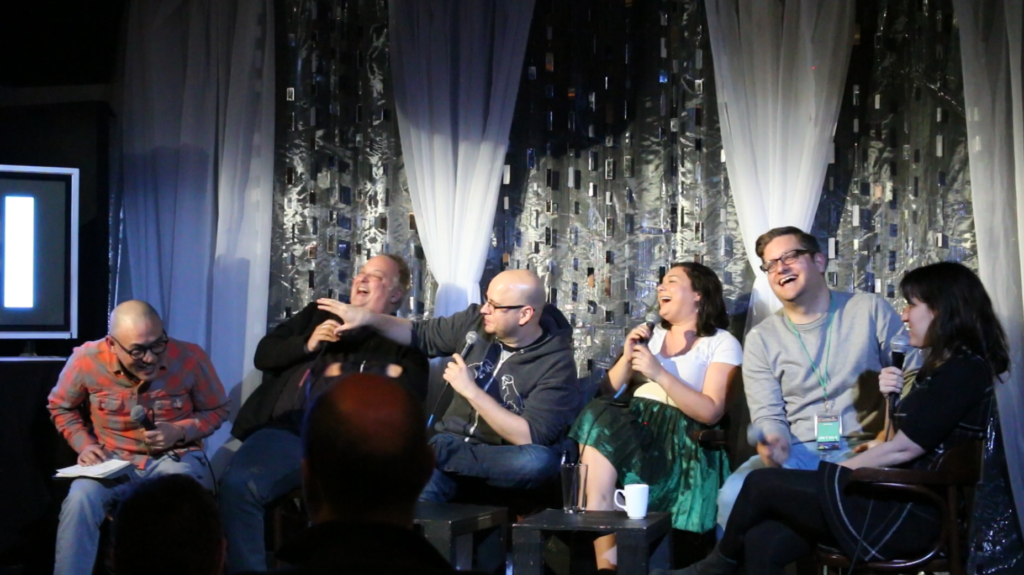 TEAM MAKING OF A LOITERER
Alex Falcone
https://alexfalcone.ninja
I'm Alex. I'm a comedian and writer living in Portland, OR. I won Portland's Funniest Person in 2018 which is kindof a big deal. I've been on the IFC show "Portlandia" a handful of times and I've appeared at bunch of comedy festivals including Bridgetown, Bumbershoot, SF Sketchfest, and the Brooklyn Comedy Festival. My writing has been quoted in Rolling Stone, VOX, Boing Boing, and been featured on the front page of Reddit. I also wrote a young adult romance novel called "Unwrap My Heart" about a girl who falls in love with a sexy mummy. Publisher's Weekly called it "unfortunate." Salt & Straw named an ice cream flavor after me and it was pretty good.
Despite these modest accomplishments, I've somehow remained totally down to earth and approachable.
Kate Willett
https://katewillett.com/
Kate Willett is a comedian, actress, and writer whose raunchy feminist storytelling is both smart and relatable. She was recently a correspondent for the JIM JEFFERIES SHOW at Politicon 2017. She's been featured on Viceland's FLOPHOUSE and her appearance on Comedy Central's THIS IS NOT HAPPENING was on Splitsider's list of "2016's Best Late Night Standup Sets." In the past, she toured with Margaret Cho nationally and internationally and has featured with comedians like Kyle Kinane, Jen Kirkman, Ali Wong, Dana Gould, and Greg Behrendt.
She has appeared in the Just for Laughs Montreal Comedy Festival, Limestone Comedy Festival, High Plains, Big Sky Festival, Bridgetown Comedy Festival, San Francisco Sketchfest (5 years in a row), and most recently Laughing Skull. Earlier this year she was a "Comic to Watch" at the LA RIOT festival. Her comedy album "Glass Gutter" was released on May 26.
TEAM BOWLING FOR QUIZUMBINE
Mike Drucker

https://twitter.com/MikeDrucker
Mike Drucker is a writer and comedian in New York, NY. His stand-up has been featured on Audible, SeeSo, and at the Montreal Just for Laughs Comedy Festival. His writing has been nominated for two Emmys and a Writers Guild Award. He's written for "The President Show," "Nintendo of America," "Adam Ruins Everything," "Bill Nye Saves the World," "The Tonight Show," "Late Night," and more.
Molly Sanchez

twitter.com/seriousmolly
Molly Sanchez is a writer, comedienne, and lover of burritos everywhere. She writes with "Killing My Lobster" and has performed improv and standup at SF Sketchfest, Los Angeles Comedy Store, The Del Close Marathon, and various hives of scum and villainy. She also cohosts the podcasts, "Failure to Launch" and "Red All Over: A Handmaid's Tale Recap."