Sup Doc: A Documentary Film Podcast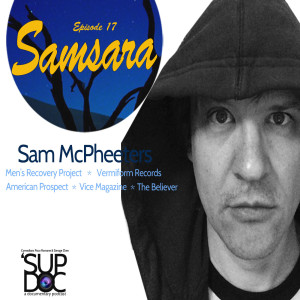 Paco and George welcome the multitalented Sam McPheeters. They discuss the 2011 documentary Samsara, a non-narrative film directed by Ron Fricke and produced by Mark Magidson, who also collaborated on Baraka (1992), a film in a similar vein. Samsara was filmed over five years in 25 countries around the world. Photographed entirely in 70mm and transferred to 4K digital projection format, SAMSARA s mesmerizing images of unprecedented clarity illuminate the links between humanity and the rest of nature, showing how our life cycle mirrors the rhythm of the planet. Neither a traditional documentary nor a travelogue, SAMSARA is a guided meditation on the current of interconnection that runs through all of our lives.
Sam McPheeters is an American artist, journalist, novelist, and performer. Raised in Albany, New York, he became a published author at age 12, with Travelers' Tales,a collection of regional folklore. In 1985, McPheeters grew active with the hardcore punk scene, producing several fanzines and organizing local concerts. After moving to New York City in 1987, he co-founded Born Against in 1989 and the Vermiform Records label in 1990. In 1993, he co-founded the Virginia-based band Men's Recovery Project, and in 2003, he co-founded the Los Angeles-based band Wrangler Brutes. Starting in 2005, McPheeters has written for a variety of national magazines, including the Chicago Reader, Huffington Post, the OC Weekly, and the Village Voice. He is a frequent contributor for Vice. In 2012, his first novel, The Loom Of Ruin, was published through Los Angeles-based Mugger Books.